EFI's multi-layer and white ink technology enable users to create tactile textures with any design or pattern on wallcovering.
In this example, EFI printed on our Gold Flash and the image is a two-layer print with white ink.
Black Texture Elements
The black shapes print on the bottom layer, creating the base for the texture. CMYK and spot white print on the top layer, adding a second layer of black ink to the shapes.
The result is a raised appearance. The light, neutral gray tone in the artwork creates a matte finish on the glossy Gold Flash surface.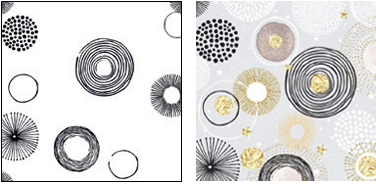 White Texture Elements
Texture can be added under the white shapes instead by creating a file with the white elements only and coloring them black. This file prints on the bottom layer. CMYK and white will print on the top layer, completing the print.
To increase the height of the texture in either example, print two or more layers of the black texture file.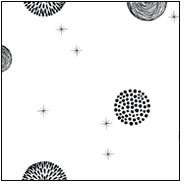 Watch Here
Please contact us to learn more, we are happy to help!